Having patience is a challenge facing drivers in my city these days—more than ever. Last week a massive fire shut down Interstate 85 near downtown Atlanta. Miraculously, due to the tireless efforts of first responders, no one was hurt or killed.
We Atlantans take great pride in our horrific traffic. In the latest INRIX study, Atlanta's bad traffic ranks No. 4 in the US. Hundreds of miles of interstate highways serve 5.7 million residents in the greater metropolitan area.
Commuters spend on average 71 peak drive time hours per year getting to and from work here, according to the INRIX study. Atlanta is an international transportation hub, and our airport is the busiest in the world.
Given all that, we are not known for being patient. Last week's fire is changing all that.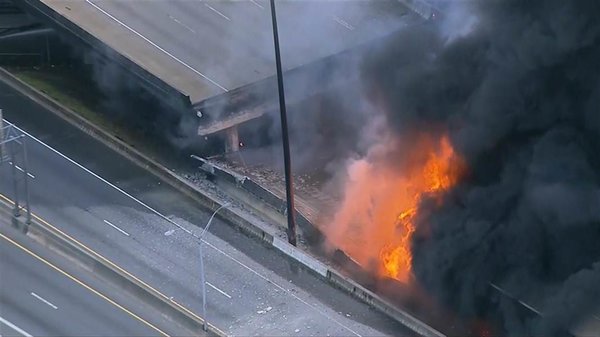 Before the fire, 250,000 drivers used I-85 each day. Now those 250,000 cars are clogging up other highways as people struggle to get to work. Fortunately, some commuters have turned to MARTA, our bus and rail system. Unfortunately, our system is a fraction of systems in Washington, New York and elsewhere.
With all that said, this blog focuses on having patience and how to increase yours–especially after your 2-year-old's meltdown.
"Everything comes gradually and at its appointed hour."

–Ovid
When I was pregnant with our first child, I complained to my doctor about how long it takes to grow a baby. Walter looked at me and said, "Pam, pregnancy takes so long so you can develop the patience needed after the baby gets here." I guess I should have had a couple more kids.
"Most men pursue pleasure with such breathless haste that they hurry past it."

–Soren Kierkegaard
One idea for having patience is to slow down. If you wear a watch, leave it on your bedside table for a day. Turn your cell phone off. Pay attention as you move slowly through the day. You'll see things and feel emotions that you probably ignore or miss in your usual hurry-up world.
For more tips, check out this article on having patience, from Essential Life Skills.
"How poor are they who have not patience!
What wound did ever heal but by degrees. "

–Shakespeare
A few years ago, I had a medical procedure, one that I had had before. I was quite confident I knew exactly what would happen. Boy, was I wrong!
Life threw me not just one curve ball but several. What I had expected to take a couple weeks to heal ended up being a journey that lasted two years. I learned it is a blessing that we can't see what's coming ahead.
Having patience was an unexpected outcome of that journey.
Try these tips to develop patience
You can find other, less drastic ways for having patience in this fantastic article by Dave Ursillo. I love his approach and his ideas.
"It's not that I'm so smart,
it's just that I stay with problems longer."

–Albert Einstein
Having patience helped Thomas Edison eventually find the right combination to develop the light bulb. Some stories are that he failed 1,000 times or 3,000 times or more. Whatever the real number, Edison persisted until he developed the incandescent bulb. For more on his work, see The Edisonian.
"Adopt the pace of nature: her secret is patience."

–Ralph Waldo Emerson
This WikiHow site offers physical exercises to help you with having patience. One technique is to eat apples because they help with patience. I welcome scientific evidence of that "fact."
Here are two last quotes on having patience that may help you. Links to other sites on the topic follow. Check them out.
"Patience is also a form of action."

–Auguste Rodin

"Patience, persistence and perspiration make an unbeatable combination for success. "

–Napoleon Hill
Here's to your success.
4 Steps to Developing Patience
Fire photos by nbcnews.com.
© Pamela A. Scott, MentorLoft.com, 2017