I hear this question from YoPros like you a lot: "Should I change jobs?"
Such a simple question, but it requires a lot of thinking and discussion. Here's what follows.
Your Coaching Session
Questions to Ask Yourself
A Checklist and Timelines for Quitting
The Job-Hopping Myth
Your Coaching Session
Before you quit your job, join me for a cold one and let's chat. It's 5:30 p.m. in a mythical land where there is no rush hour traffic. This is our regular coaching session.
Should I change jobs? I'm not sure I'm in the right position at work. I like the company and my coworkers. But I'm in accounting and think I would be happier in marketing. 
It's common for people to start in one job, then decide they'd like to change jobs, even change careers. Think about these questions before making any big changes.
Can you stay with your current employer?
You're in accounting and want to move into marketing. Does your employer have a marketing department? What roles exist in marketing? Are there openings now or are any expected in the near future? Or are you going to have to find a new employer to move into marketing?
Why do you want the change?
Why do you think you want to change from accounting to marketing? Accounting is a very detailed profession, with hard and fast rules. Marketing positions can be detailed, such as overseeing metrics, or they can be very big picture, such as brainstorming and creating a campaign. Marketing can be a lot more fluid than accounting.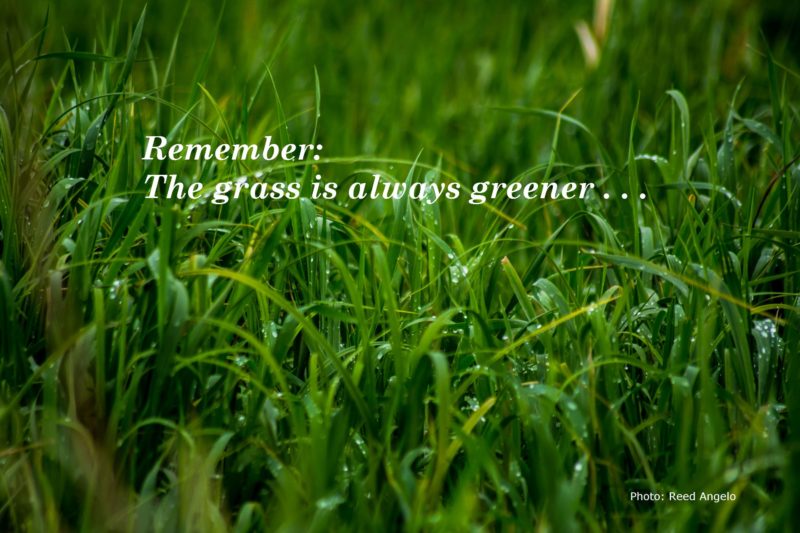 What do you know about the new field?
Would you be comfortable in that environment?What do you know about marketing? Do you have friends that are in marketing that can give you insight into the profession? Check out professional associations that marketers belong to, such as
You can learn a lot about a profession from the association that serves people in that profession. Look at the topics covered in publications, workshops and conferences, and online learning opportunities. Attend a meeting at a local chapter. Find people who can give you insight into what you think you want to do.
What's your educational background?
Is your real question "Should I change jobs?" Or is it "Should I change careers?"
Do you have any background or courses in the field you want to move into? When I was 27, I wanted to get an MBA in marketing and got accepted into a good program. However, my educational background–a BA in journalism, with French and English as minors–didn't include much math. I was going to have to take five math courses before I could even start the MBA courses I was really interested in. In the end, I chose to stick with journalism at that time.
Many years later, I did get my master's in education and human development. By that time, I had already taught writing courses for my employer and had designed some courses. I really enjoyed it. I took a 2-day workshop from the local chapter of a professional organization for trainers to learn the basics of training adults.
Then I found a great online master's program from George Washington University. I got to test the waters by taking three classes before actually applying to the Master's program. By that time, I knew this career shift was what I wanted. It took a lot of time, but it was time and money (a lot) well spent.
What does your boss suggest?
Once you've done your homework, talk to your boss about what opportunities at your current employer. It's possible the company may be willing to give you tuition reimbursement to cover school expenses.
The bottom line: Don't jump ship, career-wise, without doing some serious homework on yourself and what you think you want to do.
A Checklist and Timelines for Quitting
One last piece of advice from Georgene Huang, writing on Forbes:
"Since paralysis often accompanies a major move like changing your job, this checklist will help you take the necessary steps." Check it out.
Also check out our advice on going to work with a start-up.
Deal With the Job-Hopping Myth
Your generation has been branded as job-hoppers, changing jobs frequently, much more than other generations did. This isn't true, according to data from the Pew Research Center. I've always objected to people labeling YoPros as job hoppers. My question to those critical folks is: How many jobs did you have in your 20s?
Your 20s are a time when you explore your career options. You're looking for new experiences, new opportunities, new friends and, of course, more money. That's typical of people in their 20s.
In your 20s, you may have more freedom and flexibility than you will in your 30s and later. You probably don't have a mortgage or children.
My first job was with the Binghamton (NY) Evening Press. After about 13 months, I switched to the Binghamton Sun-Bulletin because I had a chance to rise up in the ranks and take on more responsibility.
A little over a year later, I moved to Atlanta because the newspapers here offered me more options to grow in my career. I stayed at the Atlanta Journal-Constitution for nine years full-time, then another few years part-time. I've never regretted those early career moves.
EdSurge interviewed some folks at LinkedIn and elsewhere about the job-hopping myth.
"Doug Weber, an associate professor of economics at Temple University, 'concedes that even if the perception of job-hopping is exaggerated, it's still good advice to look for opportunities to update your skills, since the working world is changing fast, even for people who stay in the same job.' "
This article from Forbes goes into reasons why you might want to switch jobs now.
"Millennials can earn a higher salary, grow their career, change locations more frequently, and find a better cultural fit from job-hopping. The negative stigma is on its way out, so people should lean into the positive outcomes from making a change."
Whatever your decision, don't quit in a huff. Take time to think and plan. Be the professional you know you are.
© Pamela A. Scott, MentorLoft.com 2017
The original post appeared on 12/23/15. I've updated the information and added new resources in this version.